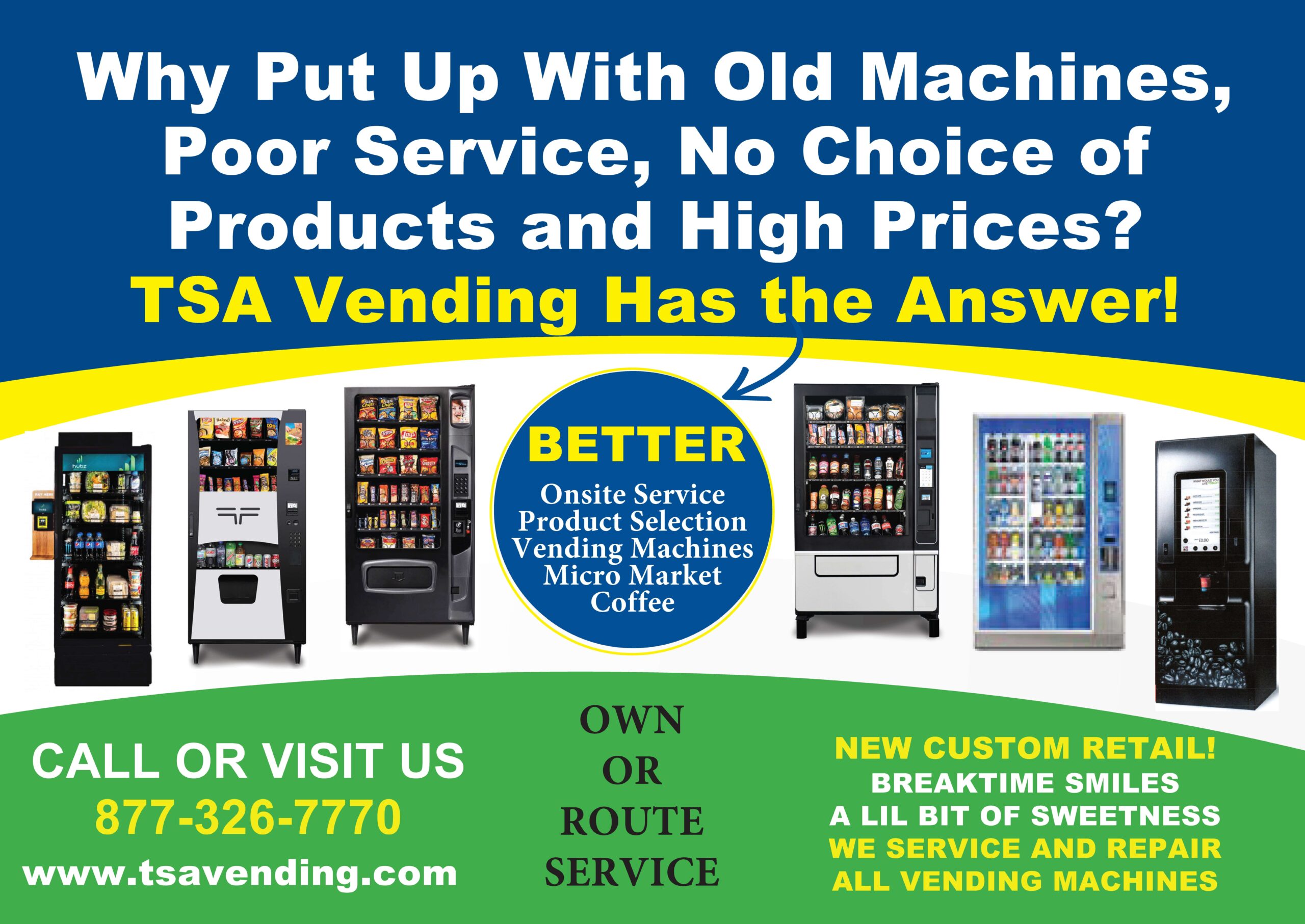 New vending machines for business locations- custom branding and franchising - Lastest technology - up to 5 year warranty - financing with 30 - 90 days deferred payments  with early payment and no penalty -  two Energy Drinks a Day pays for the monthly payment
New Vending Machines and Micro Market units purchased include a free starter kit of Vending and coffee products.
Locating Service - Guaranteed - Why pay for Leads with no guaranteed results and lose Money? - Compare prices on Locating Service, Vending and Micro Market Products and Vending and micro market machines
____________________________________
                 Shop now and save!!!
free spot front graphic 
 new vending machine purchases
1 machine - Save $200,                        2 vending machines - Save $450      3 machines - save $650                       5 machines - Save $800 
USed Vending Machines
Dixie 501e Soda - $1895.00                  9 Select Soda - $695.00                    10 Select Soda - $795.00
9 Select Snack - $695.00                  32 Select Snack - $1295.00
23 Select Combo - $995.00               32 select Combo - $2295.00  
          vending machines and Micro market units at competitive prices And Starter Kit of Products - for vendor Exchange Chicago location lead locations 
 Rebate on Vending Products from tsa vending worth up to $5835 paid quarterly on tsa vending purchase receipts
free vending machines and micro markets for business locations- community centers - social centers - Senior Centers - residential apartments
your choice of: vending products groceries - coffee products - medicine - vending product Prices 
 _______________________________________
micro Market
invest in new micro market units with increased vending sales and profits
Cooler Vending Units - Single and Multi units available with credit card readers - custom pushers - weight selection sensors - elevator product selection - touch screen advertising  
Best manufacturers Coffee units on sale now with our competitive prices and service - counter top - full size - expresso - Whole Bean - Fresh Ground - KCup - Pods
seg0 12 Bean to Cup - $4026.75
Bristro  - $695.00  
security features - Alarms - Security cameras - credit card readers                                                           _______________________________ 
new custom/retail vending:
Single and modular units
new age verification 
touch screens and advertising
wine Smart vending machines - Wine bottles & Cans- Wine Accessories 
wall mounted units -Tobacco or vape Products- Travel size toletries- small products- cbd products
community and Residentail solutions
benefits for both Business and residentail common area to improve the quality of providing a convenient and enjoyable shopping experience
__________________________________
free food and discount coupon
join by signing up with your email below for more information
hiring now -   
full / part time
work at home
Salesperson for Vending Machine Sales
Sell local vending machines to new vendors and business locations with 50 + employees in the Chicago Metro Area. Be paid a commission + Monthly Bonus on every verified business location that signs a sales or location agreement. Earning potential over $80,000 plus Bonus
Telemarketer for Vending Machine Sales with Bonus Commission
We are looking for an experienced telemarketers to assist with vending machine sales and locating new business opportunities. The role will involve calling potential clients from our marketing list of qualified locations and providing our Vending, Micro Market, Community Solution Marketing and Custom/Retail services. The ideal candidate will have a proven track record in telephone sales, as well as excellent communication and persuasion skills. Experience in the vending machine industry is a plus. Training will be available. 
Our Services
We offer various options so you can select the best one that suits your needs.
Vending Machine Service
Factory Authorized Service
Same-Day or Next-Day
Available 7 Days a Week
Shipping or On-Site Delivery
Free Technical Phone Support
Yearly Preventative Maintenance
Locating Service
Your Choice
Own a Vending Machine
Vending Prices
Vending Products
Rebate on Products
Custom Graphics or Logo
Free Vending Machine
Business Locations
Easy Financing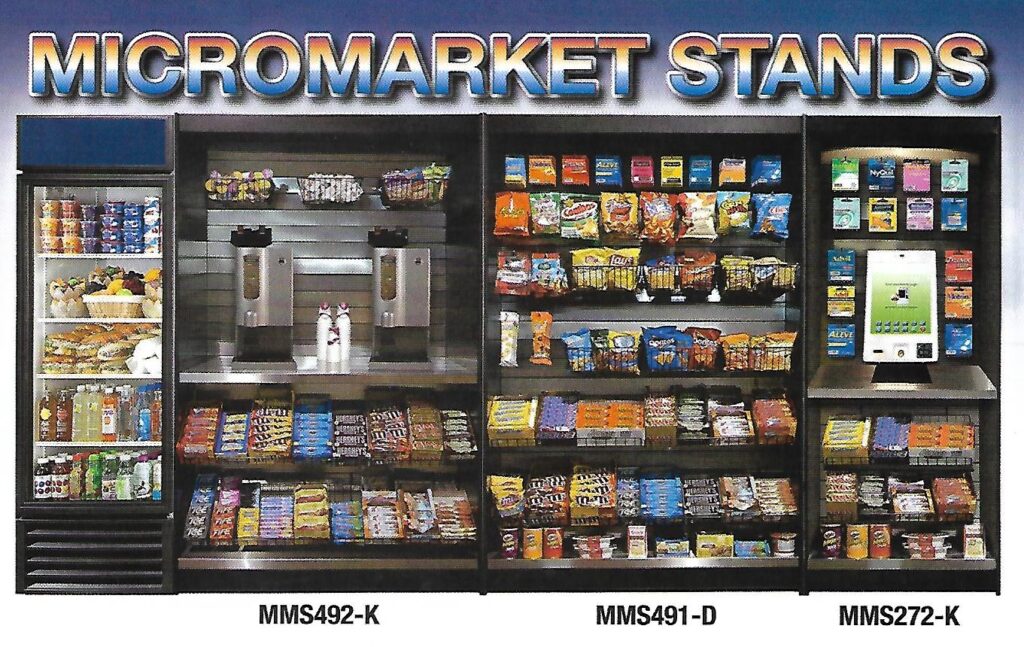 Custom/Retail Vending Machines
Custom Coolers
Micro Markets
Custom Machines
Retail Products
Touchscreen
Credit Card Readers
Custom Graphics
Fundraising

Sales
Snack Vending Machines

Soda Vending Machines

Combo or Cold Food Vending Machines

 

Coffee Vending Machines

Office Coffee Machines

Frozen Food Vending Machines

Outdoor Vending Machines

Custom or Retail Vending Machines

Micro Markets

 

Payment Solutions

 

Locating Service

 

Office Coffee Makers
Fresh Brew Coffee Machines

Bean-to-Cup Coffee Machines

Espresso Coffee Machines

Single-Serve Coffee Makers

Touchless Coffee Machines

Airpot Thermal Dispensers

Coffee Stands

Countertop Displays

Breakroom Kitchen
Custom Coolers

Water Coolers

Ice Makers

Slushy or Juice Machines

Undercounter Refrigerators

Microwave Ovens

Micro Markets
upgrade your service and vending machines
Take care of your business location's vending service and vending machine requirements with numerous options to choose from that will meet your needs and goals with:
Increased sales of products and services.

Improve customer satisfaction.

Increase customer foot traffic. 

Provide custom promotions for new products.

Fundraising opportunity. 

Brand Name Recognition
Reach out to us to learn more about our vending machine programs and join the many satisfied customers who have benefited from them.
BENEfits
We will provide you with all there is to know about owning a vending machine through free training.

We have financing programs to assist you.

We are a low-risk investment.

We offer quick and simple service every day, including holidays, to answer your questions and address any issues.

We will add custom graphics and logo designs to your vending machines to present your business branding. This will increase customer traffic and profits for your business.

We will identify the best locations to place your vending machines.
Call us at (630) 854-0458 or (877) 326-7770 or email us at joe.tsavending@gmail.com for any concerns or questions about our products and services.
Sign Up with Us
Fill out our form below for our newsletter with the latest information on our vending machines, new vending products, promotions, discounts, and vending information events.